i have feeling so blah about blogging about christmas--don't get me wrong, it was ah-mazing, spoiled rotten, family snuggles, yummy food goodness. but 1. i didn't take many photos, i was too busy grinning from ear to ear watching my kids open their carefully thought out gifts. and 2. what is there to say? i am just hoping yours was as great as mine and you already know how it felt.
ok, fine. i got a couple of photos and the most hilarious video (well at least to us) of rowan first coming out to find what santa had left her. how does it take someone 5 minutes to notice a bike under the tree? ok, it was like a minute...but still: oh, and hello--i should mention that i shot this on the flip camera that tim's sister got me,
i mean us
. i about died, i have wanted one for so long! thanks holly, vu, and vivan!
every year santa leaves each girl one big unwrapped gift, usually a 'bike' type of thing with a elaborate tag to help really sell the 'santa' thing (even, though i think zoe is totally onto us. shoot). this year zoe got a guitar, rowan her first bike, and stella got a walking/riding toy in the form of a dinosaur. i think zoe was only mildly disappointed that is was an acoustic guitar and not the electric one she wrote santa for.
seven year olds i tell you.
i think it made up for it though when g'ma and grandpa brought out the 3 ft by 5 ft dream dollhouse with elevator...spoiled much?
the rest of our day was spent playing old nes games (we got my dad nintendo points for his wii so he could download his old favorites), playing who wants to be a millionaire, and nom-nom'ing on prime rib and twice baked potatos.
finally we headed home to our disaster of a house--don't tell me every time you leave in a super rush that your house stays pristine, ha. i told the kids that not a single gist was getting played with until it was cleaned up...needless to say, we didn't play with much until last night after dinner.
i was SUPER excited to try out tim and my gift from my parents! my mom made us a new duvet and accent pillow for our bed--i love loved love it, it is exactly what i wanted and totally changed the look of our room once we threw out tim's brown suede one (i know, right?). my dad had gotten us the matching sheets to the one my mom used for the underside of the duvet so it all looked perfect! and so comfly too! please ignore the fact that it looks like we are smuggling small lumpy children in our comforter...it is old and soon to be replaced with a down. it totally rocks having a designer/workroom owner/seamstress for a mom!
and, she got me that framed 'always kiss me goodnight' that i have wanted for forever!
oops, almost forgot about chritmas eve...it was sort of a whirlwind that started at 6am and ended with some dexter as we unwound from such a crazy day. we had yummy brunch at tims mom's and exchanged gifts. it was a lot of fun! i chose to do all handmade this year and it felt really good, hmmm this might be my new tradition! we made our own xmas music on tammy's various instruments and laughed at the little cousins playing. it was a lot of fun!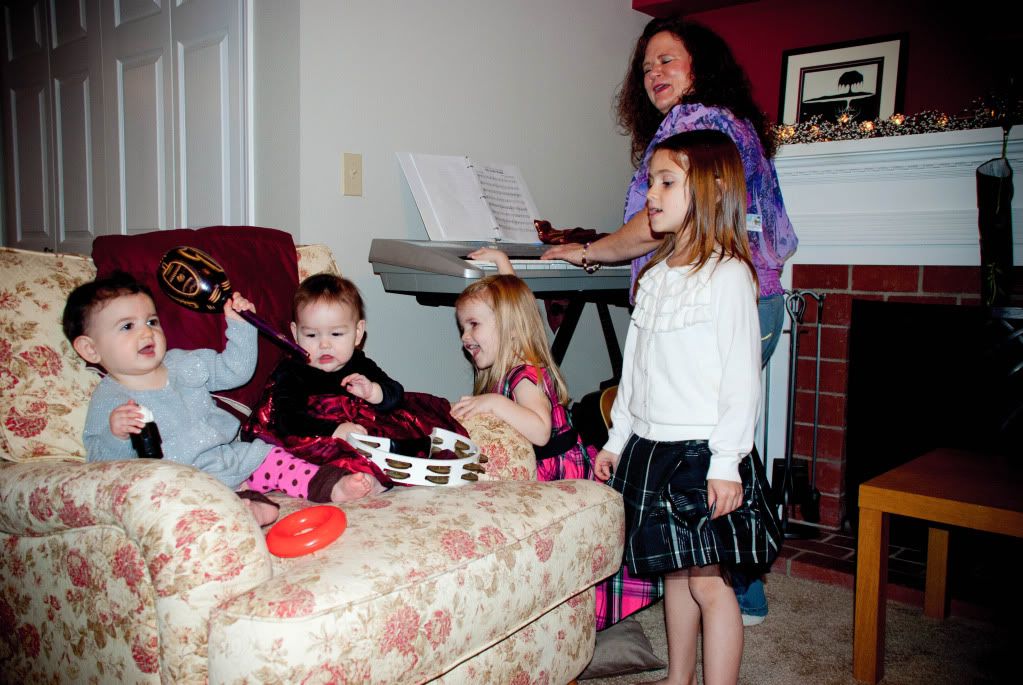 ok, i had to add this one...
after that we headed to my uncles for our traditional dad's side family xmas gathering...we couldn't stay to long because we had to make the trek all the way north to camano island to my parents. we did the kid gift exchange and then an adult white elephant sort of one except with good usable gifts :)
and to leave you with a video of stella strumming zoe's new guitar...
i hope all of you, my bloggy friends had a great christmas and that the new year brings you much joy!