there is nothing like a baby with a mustache to get me through my day! stella wanted to put on her best one for you since it is her big day coming up!
i am so excited about this little story that chelsey from the paper mama put together for stella-it has been so fun getting to know the gorgeous ruari and her mama over the last year-ish. we are so bummed they live so far away but are totally looking forward to the times we get to see them coming up here! prepare to laugh your butt off and some adorable babies with mustaches and their special story!
----------------------------------------------------------------------------------------
Wow... Little Miss Stella Boo is already turning 1? I can't believe it. I remember stumbling across the Hi, Baby blog WAY back when I first started blogging. I think Ruari and Stella were destined to be friends from the beginning. You see, they both had mustaches... Yes. Baby mustaches. And, they felt like they may be the only babies in the WHOLE wide world that have mustaches. So alone.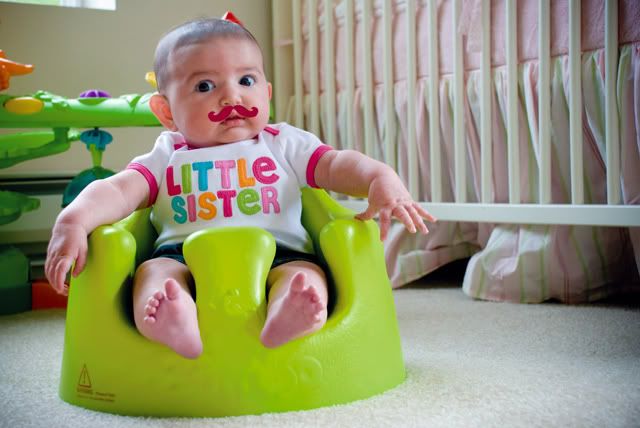 Until one day I just randomly googled: "Baby Mustaches" and the Hi, Baby blog came up

(ok, not really... but, that would be funny if it did! Ok, I just googled baby mustaches. You should totally try it)

.

So, when I told baby Ruari that I had come across ANOTHER baby with a mustache... she was BEYOND thrilled! She spit out her food and screamed, "Goo!"
So Melissa and I planned a baby meet up in hopes that our babies would become friends and accept their mustaches! At first they were very shy....
But, with time and lots of texting
(cause Stella and Ruari already have cell phones)
they grew close... and then became friends. And, with this new support they both learned that even though they are babies with mustaches... they are beautiful and awesome just they way they are.
Happy Birthday baby Stella! You are beautiful and amazing!
♥ Chelsey and Ruari