"...toddlers are more than five times safer riding rear facing in a car seat. they should stay rear facing until 2 years of age." -american academy of pediatrics
last week i had the privilege of being invited to an exclusive graco event with some other local mommy bloggers. this was an opportunity to get some hands on experience with and get to know the brand new
graco snugride click connect 40
- a car seat manufactured to fit your little one until forty pounds!
mama kat, of
mama kat's losin it
was our wonderful host and did an amazing job showing off the seat and filling us in on the ins and outs of all the wonderful things this new system has to offer. thanks kat! we met up at the fun itallian restaurant, vince's in federal way, where we were tucked away in the back room, giving us a chnace to learn, get to know each other, and gossip about the latest and greatest parenting how-to's.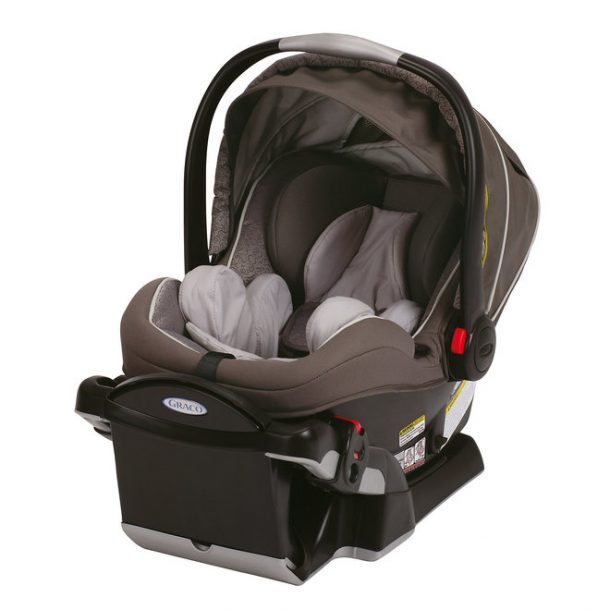 i am so excited about this new seat by graco!
what a great idea to help parents skip an extra car seat purchase or help make their already expensive infant seat last longer. it is no secret that the american academy of pediatrics recently changed their recommendation about carseats, to state that your little one should continue rear facing till at least two years of age - some choose to go much longer!
the
Graco SnugRide® Click Connect™ 40
– the first and only newborn to two-year infant car seat that actually grows with your baby from 4 pounds all the way up to 40 pounds. the car seat is designed for a parent on the go. the infant car seat can be easily removed from the base and used as a carrier when the infant is small, providing portability and convenience so you can easily move your infant in and out of the car without disturbing them.
- 4 to 40 pound weight limit, a full 2 years. base adjusts with 8 recline positions for most leg room of
any rear-facing car seat for baby comfort
- the simply safe adjust harness systems allows parents to
adjust the harness and headrest with just one hand to fit their baby's height as their baby grows, all without having to rethread the harness for extra convenience.
- click connect attachment which allows parents to easily transition their babies from the car seat to the stroller through a simple, but secure, one-step "click."
-comes in two eye catching patterns, moonstruck and mena.
when i very first saw the seat fully extended i was a little concerned about how it would fit behind the driver or passenger seat - turns out that it was designed to be no larger then you average convertible toddler seat in the same rear facing position! my favorite part? it is so easily adjustable! from the straps to the head rest everything is very user friendly.
on twitter and instagram, people said things like," i couldn't imagine carrying around my 40lb toddler in that" and "won't their feet be crammed? i thought once their feet grew past the end you had to discontinue use?" when the seat is being used in it fullest reclined position for your toddler you would cease removing it from your car and leave it stationary like any other toddler seat. as far as leg room, the whole seat slides back on the base adjusting for your little ones growing legs and even gives you a little foot pad to help protect your seats!
i highly recommend this new system if you are in the market! it is so comfy and sturdy looking that i wouldn't even think twice before trusting my baby's safety in this seat. can't wait to hear what you think, and feel free to ask any questions!
this is a sponsored post written by me on behalf of Graco. i was provided a car seat in return for this review, the opinions and text are all mine.