i think i am in love with a baby shoe, if that is possible...
i really don't think that is gets much more adorable then the
"jayne" soft soled baby shoes
from
needlehead crafts on etsy.
when these tiny little guys showed up in our mailbox i just couldn't get over how soft the leather was and how well made each one was.
you can customize the ribbon color, choosing from eight different colors and specify if you would like wool lining for colder temps. these little shoes fit feet 4" to 8" giving you the chance to keep your little one in these soft and scrumptious shoes through preschool. want a pair for you? she makes adult sizes too!
did you know that pediatricians actually recommend that babies under two wear soft soled shoes (or go barefoot) for proper foot and muscular development? too ridged of a shoe can cause issues with cartilage shaping that can lead to more issues down the road.
the "jayne" shoe
is a perfect answer to this! it is so flexible but made of a soft moose-hide bottom that prevents slips and allows your little one to easily grip the ground with their toes.
megan offers some of the most gorgeous, hand-made, leather work that i have ever seen. from baby to adult shoes + clothing, it is unexpected clothing and shoes for all! i can't get over how adorable her studio is - a special space to create and spend time with her daughter. a little bit about the shop: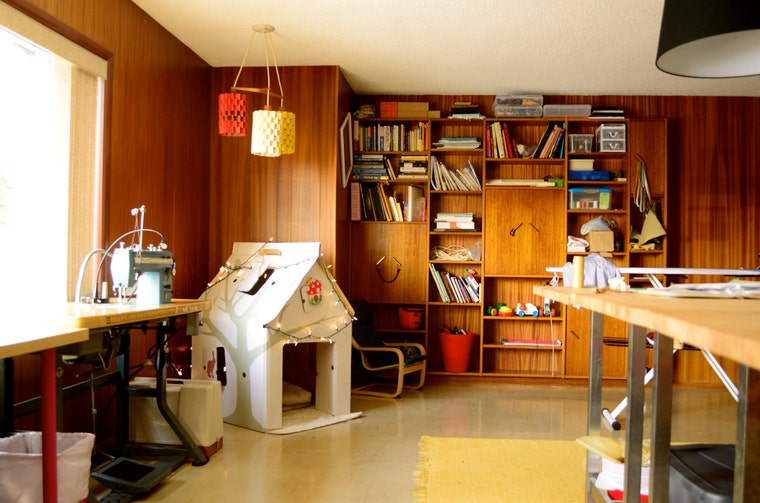 "This shop is where I present my best work to the world. As a stay-at-home mom, I can't be running around town spreading the word! I need an outlet where I can share my creations with those who are interested without leaving the house.
Most of my days are spent in my home studio, with my daughter playing nearby. I love to explore a variety of textiles and it is not uncommon to find leather scraps, wool yarn, yardage of quilting cotton, up-cycled sweaters and beads on my work table. Wait, that's what's on my table right now...
I'm a jack-of-all-trades type of person and no hand craft escapes me. Therefore, you will find all sorts of techniques and materials used to create the items I've listed in my shop. In fact, I pride myself on incorporating as many different mediums as possible in my work."
a Rafflecopter giveaway